THE BRITISH-UZBEK SOCIETY HISTORY
By Dr Hartley Booth OBE
In September 1993, only two years after the independence of Uzbekistan, I flew to Tashkent. It was a memorable event and included a meeting with President Islam Karimov at his residence. At the time I was a member of Parliament and a junior member of the Government in the section of foreign office responsible for relations with Central Asia. On my return I formed a group of parliamentarians who were interested in sponsoring this part of the world. It was exciting because the USSR had frozen ordinary contact with the nations it controlled and now for the first time since about 1921 the newly freed nations enjoyed and celebrated the oxygen of political and economic freedoms. Over 40 members of Parliament joined the group making it one of the most popular international groups in the Commons. A committee was formed, contacts were made, and friendships were established. On the Uzbek side, President Karimov visited the UK and had lunch at 10 Downing Street with Prime Minister John Major, which I attended.
In 1997 my seat in Parliament was removed by something called the Boundary Commission but the Government of Tony Blair appointed me to be an official trade envoy to Uzbekistan as chairman of the Uzbek British Trade and Industry Council, whereupon the Ambassador for Uzbekistan Alisher Faizullaev invited me to have lunch with him at the Uzbek Embassy. Naturally we discussed relations between our countries and Alisher suggested a British-Uzbek Society might be formed promoting friendship between our nations. The Society would go beyond trade and commerce to encourage cultural and wider links between our peoples. He kindly asked me to chair such a body. It was obviously a good lunch as I accepted his challenge.
Dr Alisher Faizullaev, former Ambassador of Uzbekistan to UK (1999-2003), the first Patron of British-Uzbek Society and Dr Hartley Booth OBE. Photo credit: Alisher Faizullaev
I assembled a group of excellent, interested leaders who included the former cabinet minister Sir Timothy Sainsbury, who agreed to be the first President of the Society; a lecturer from SOAS who specialised in Central Asia, Doctor Shirin Akiner; and Richard Wilkins, a leading businessman whose commercial interests took him to Uzbekistan monthly.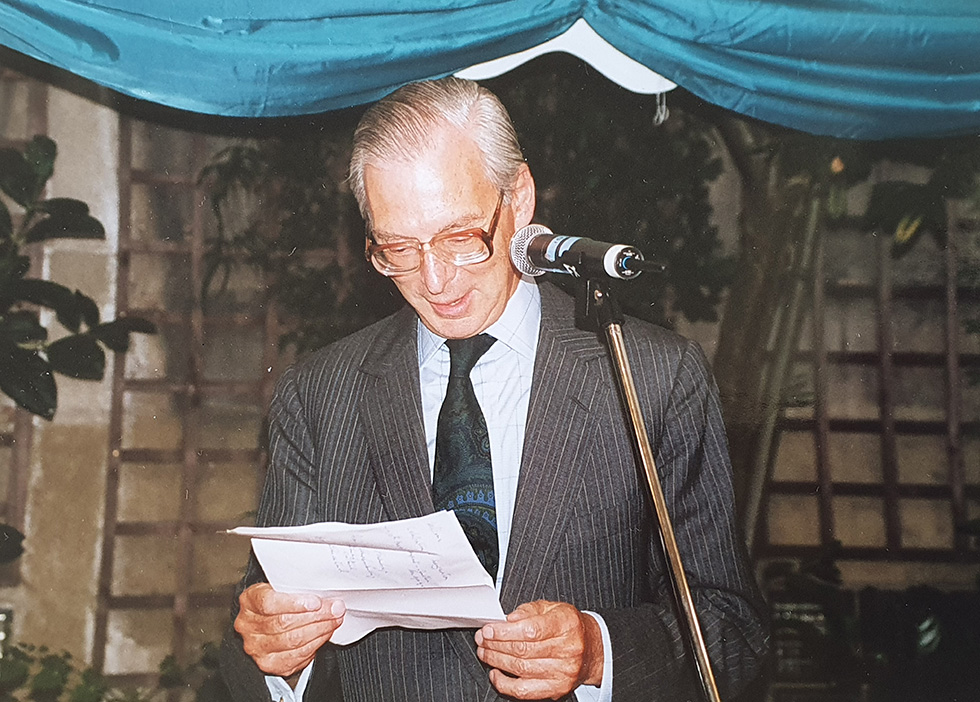 Sir Timothy. Photo credit: Alisher Faizullaev
The Uzbek side would be led by the Uzbek Ambassador, and we soon were joined on the committee by brilliant Uzbeks such as Elena Potayenko. SOAS fielded the first editor of the monthly newsletter, which still proudly continues, and we agreed to launch the Society in September 1999. This event was duly held in the Embassy garden, at which the Deputy Prime Minister of Uzbekistan Elyor Ganiev joined me to officially attend the birth of the Society. He presented me with a long velvet robes covered in gold lace renown in Uzbekistan. In putting it on there was no turning back.
Alisher Faizullaev, Sir Timothy Sainsbury, Elyor Ganiev, Dr Hartley Booth OBE. Photo credit: Alisher Faizullaev
We energetically dived into the promotion of every kind of link between our countries. We examined the specialist section of the British Museum where ancient gold coins from Uzbekistan are carefully conserved. We helped launch a book written by a beautiful descendant of Tolstoy recording how she travelled on horseback from the west to the eastern mountains of the country.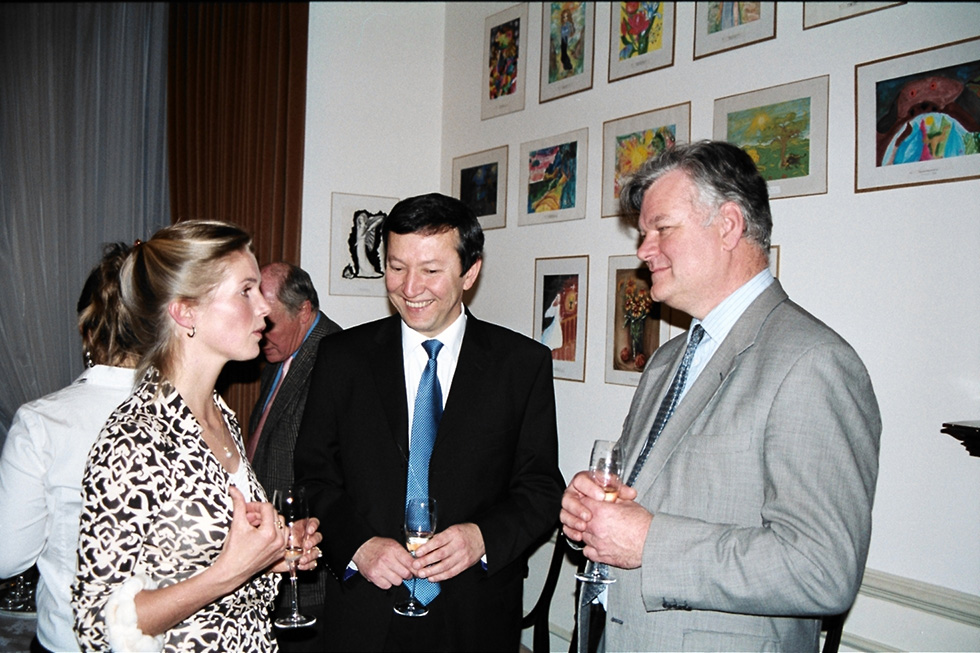 The launch of the book of Countess Alexandra Tolstoy "The Last Secrets of the Silk Road: In the Footsteps of Marco Polo by Horse and Camel" (the event was organized by the Society in 2003 at the Embassy of Uzbekistan in London). Photo credit: Alisher Faizullaev
We created our own exhibition of beautiful Uzbek clothes and colourful pottery and we applauded dancers brought from Tashkent who astonished us with their nimble movements and dazzling costumes. An English member of our committee, Patrick Newman, was able to remind us of the days when Uzbekistan was a film production centre in the Soviet Union. We were shown some great films of the past in the British foreign office itself. This was followed by more superb Uzbek films shown in a private cinema in Kensington.
We were always able to invite a wide audience of British people from all walks of life. It helped greatly that we were able with the Uzbek Embassy to invite members and a wider group to parties where they could sample Uzbek food. Thousands learnt the excellence and contents of a good plov from Tashkent or Samarkand. Historians came to our meetings.  Professors from Cambridge lectured on the history of Central Asia and we were fascinated to learn, 40% of the genetic code in Uzbekistan is Greek, traceable to the time when Alexander the Great and his army found solace in beautiful local women, or that our King Henry VIII, when not breaking off ties with Rome or one of his wives, had significant correspondence with the rulers of Central Asia which now constitutes Uzbekistan.
With the help of Uzbek Airways many flew to Tashkent and onwards to Bukhara, Khiva, Fergana and Samarkand. I was among these travellers who brought back tales of the wonders to be found in Uzbekistan, from lapis lazuli painted tiles, to sun-dried tomatoes, from ancient fortresses to long redundant harems, and from fruit markets as colourful as rainbows to environmental lessons of the Aral Sea. We saw how modernisation blended with the past and how education was an obsession for the people. We tried linking different schools and colleges between our two countries and there is much more scope for this in the future, particularly as technology and computerisation reach the next development stages.
As the Society developed we chose various building blocks that assisted us. None should be forgotten. First were the Society annual dinners which for many years were held at the Travellers Club in Whitehall. Eminent speakers from the Armed Forces, Parliament and even former British Ambassadors regaled us after we had eaten well from tables in the club library. The high point would be the singing at the end. Attendance at the annual Independence Day celebration in September hosted by the Embassy was an enjoyable cornerstone of our calendar and in Tashkent our friends and allies the Westminster University and from their headquarters in London were always there to host visitors, produce lectures and advice.
Perhaps less obvious but nevertheless crucial was the support given us by the British Embassy in Tashkent and generous donations from leading British companies such as Oxus Gold and the law firm Dentons. Each member of the Society gathered unique anecdotes. Perhaps my favourite was the time the British ambassador in Tashkent hosted a gathering of diplomats at his residence. He held a blind wine tasting of a top grade Champagne (Hiedsieck) and three English fizzy wines. Everyone with the exception of the representative of Croatia chose the Nyetimber English fizz rather than the French offering. The legation from France was not best pleased.
Membership of the Society varied over the years, organised by my stalwart secretary Julie Ford. The core membership was always some hundreds but the wider association of friends from Cambridge University, Westminster University, the British Council and other groups even a wonderful committee from Birmingham who were interested in women's rights, extended our wider membership links to about 4 to 5,000. The young Uzbek fraternity in Britain formed an offshoot with about a thousand mostly student members. Fortunately, with the help of donors we will always safely solvent with enough funds to promote our gatherings.
In retrospect the British-Uzbek Society has over the last 23 years, now with three retired occupants of the chair, achieved its most significant aim to enable more people in Uzbekistan to understand and befriend people in the United Kingdom and many more British people to know and love Uzbekistan and its people. We avoided politics and while we thanked our business sponsors we were not commercial. Instead from the top of both Governments and our Royal family including HRH Prince Michael of Kent, to a wide spectrum of others we opened the book on Central Asia-based in Uzbekistan and its delightful and hospitable people. We were entranced by the sparkling magic of what was once the mystic silk route and they forged friendships and a warm respect for our culture.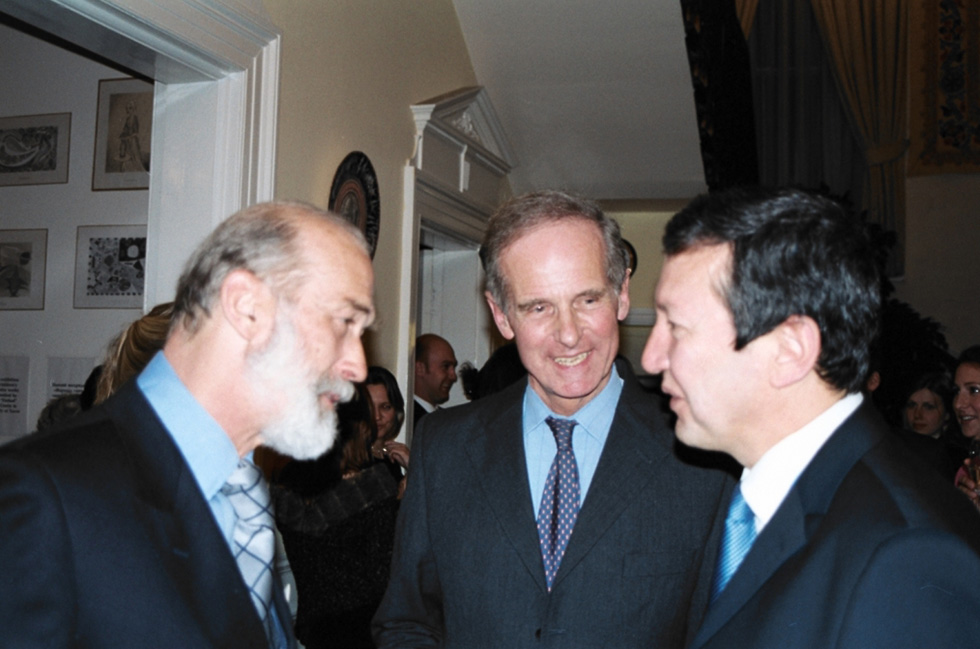 Prince Michael of Kent, Count Nikolai Dmitrievich Tolstoy-Miloslavsky, and Ambassador of Uzbekistan in London Alisher Faizullaev. Photo credit: Alisher Faizullaev
The British- Uzbek Society is expressing its thanks to Mr Alisher Faizullaev, the former Ambassador of Uzbekistan to the United Kingdom for sharing these unique historical photos.